Dunson Design Company, located in Marietta, GA, specializes in providing professional and tailored sports logo design services.
With a track record of over 100 successful rebrands, we take pride in our ability to deliver high-quality sports logos. Moreover, we have facilitated the approval of more than 20 trademark applications through the US Patent & Trademark Office.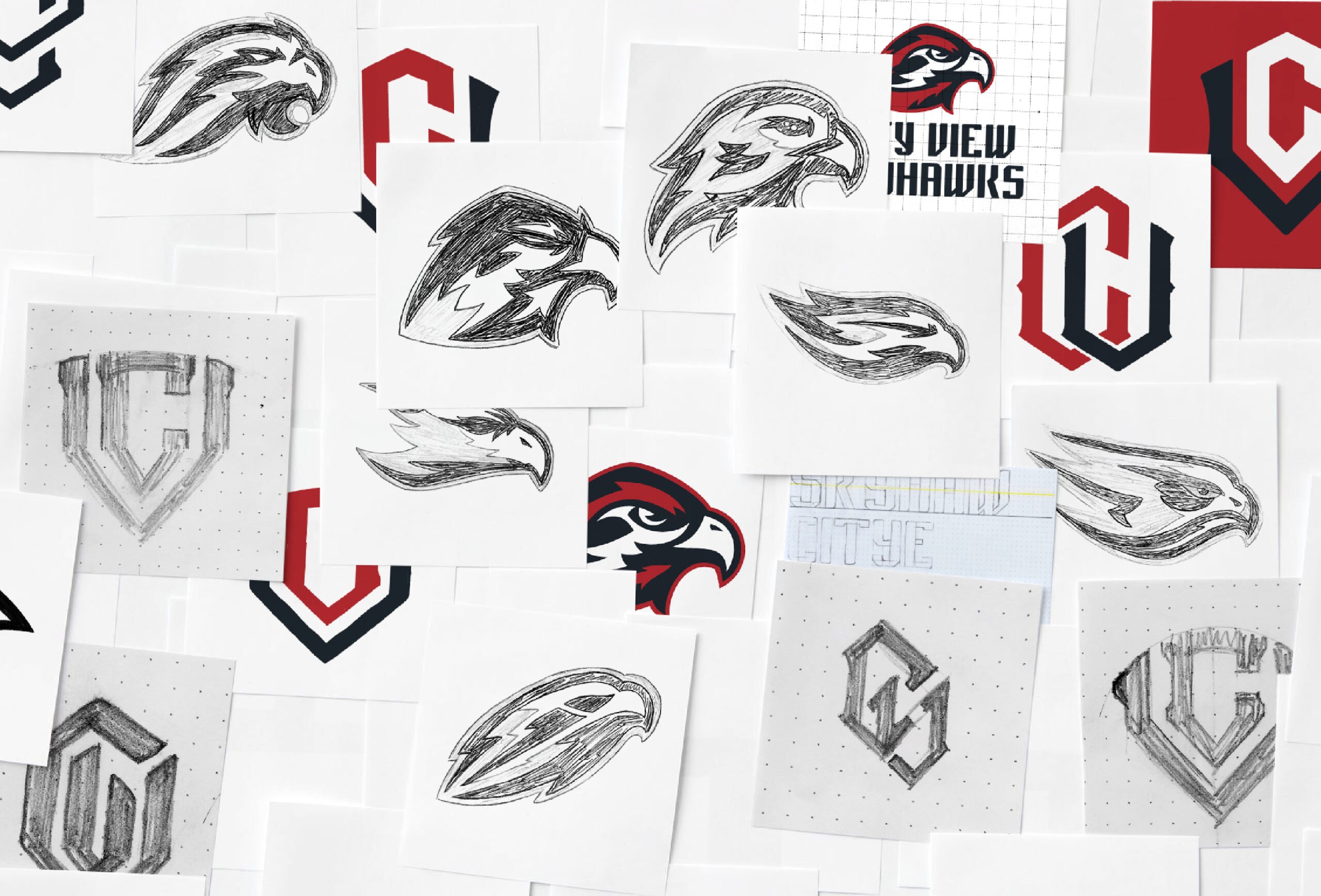 Create a unique and impactful logo that aligns with your brand's values and vision, following our six-step logo design process.
Best for a team looking for a primary logo creation or update.
What is included:
3-5 Concept Sketches
1 Digital Concept
2 Rounds of Revisions
System Font Identified
One-page Brand Sheet
Web and print formats
Project Timeline: 1-2 Weeks
Best for a team looking to rebrand their primary logo with added elements.
What is included:
8-10 Concept Sketches
3 Digital Concepts
3 Rounds of Revisions
2-3 Supporting Marks
Custom Lettermark
Custom Wordmarks
Three-page Brand Sheet
Web and print formats
Project Timeline: 3-5 Weeks
Best for teams that need a complete rebrand and overhaul.
What is included:
10-15 Concept Sketches
3 Digital Concept
Unlimited Revisions
3-5 Supporting Marks
Custom Lettermark
Custom System Font
Sport-specific Layouts
Brand Guidebook
Custom Mascot Illustration
Web and print formats
Project Timeline: 4-6 Weeks
The sports logos below are examples of the primary, secondary, and supporting marks we have created for various schools and teams.
Lettermark
A typographic logo comprised of a letter(s) that represent a name.
Spirit Mark
A logo that represents the identity and spirit of a specific school or team.
Wordmark
A logo that presents a single word or a combination of words.
Mascot Mark
A logo that depicts a character or an illustrated representative of a mascot.
Sport-Specific Mark
A logo specifically designed for an individual sport or activity.
Specialty Mark
A logo created for a special occasion, event, or purpose.
We intend to provide you with the following answers, which we believe will prove beneficial as you seek a sports logo designer capable of assisting you with your unique project:
What is your design process like?
Though each project is different, we follow the same six steps for all our logo projects:
Research and Discovery: A phase of background work and figuring our project deliverables.
Concept Sketches: Creating multiple sketches based on the project brief that are unique and able to be trademarked.
Vector Refinement: Moving the chosen concepts into the computer, we refine the logo to ensure proportional accuracy and reflect the team's colors.
Supporting Marks: We develop items such as custom lettermarks, custom wordmarks, custom font and numeral systems, and sport-specific layouts as needed.
Export Files: We provide the client with JPG, PNG, EPS, AI, PDF, and other various files.
USPTO Registration: We work to guide the client through a US Patent & Trademark Office (USPTO) application.
What are the costs associated with your services?
We offer competitive pricing that takes into account the intricacy of the project, the level of customization required, and the expertise involved. Upon discussing your specific requirements, we will provide a detailed proposal outlining the associated costs, ensuring transparency throughout.
How do you ensure that the final design reflects our school's values and brand identity?
We prioritize understanding your school's values, ethos, and brand identity to create a logo that authentically represents your institution. We encourage active involvement from your team, seeking your insights and feedback at each stage of the design process. Our aim is to achieve a logo that resonates with your school's unique character.
How should a new team decide on its name?
Team names that have the greatest connection with a community and fanbase have one of the following:
They have a direct correlation to the history and region they represent.
They have a less familiar name as it tends to make the greatest impact.
They recognize a new name comes with needing a new logo. If the name has a large list of USPTO registered logos (i.e. Tigers), it will make it harder to create a team logo that can be owned.
When should a sports team update its logo?
There is no set time when a team MUST change their logo. In some instances, it is advised to keep a logo that has developed significant brand equity. However, these are some signs it is time to change a sports team's logo:
The team is using a logo that is the property of another team or entity.
The logo has obvious anatomical flaws when compared to the thing it represents.
The team's fanbase does not connect with the current team logo.
Can any logo designer make a sports logo?
Even though the process of developing a sports logo is very similar to that of a traditional logo, how a sports logo looks and "feels" is vastly different from a traditional logo. It is recommended to find a designer or design agency that has a portfolio of successful sports logos. One of the biggest factors in determining success is if a logo is registered with the US Patent & Trademark office.
Have A Different Question?
If you have unanswered questions about logo design or our process, we would love to talk to you.
What Our Clients Have To Say
Is Your Branding Holding You Back?
Take this quick visual brand audit to find out.
Don't let a lackluster brand identity get in the way of your company's growth.
Get your organization moving forward again.